'Haters Not Welcome' Doormat
Welcome your visitors with an "unwelcome mat" for haters (you know who you are). After all, your house is a hate-free household, and there are no haters allowed. Made of PVC material, this mat is perfect for kicking off your shoes before entering, in case your house is a shoe-free household as well.
Doormat measures 30" Wide x 18" High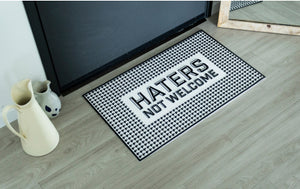 No hate, no matter the season.
The mat is made from strong, heavy-duty material that can withstand all weather conditions, making it as outdoor-friendly as it is indoor-friendly (and hater non-friendly).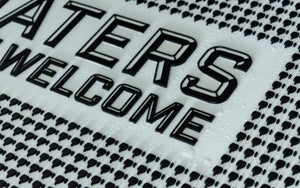 A detailed message.
Tiny thumbs-down icons border the "Haters Not Welcome" print to drive your point home.
The haters leave, the mat stays.
The strong backing keeps the mat from slipping as you and your non-hater guests come and go.